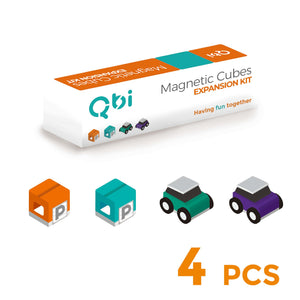 QbiToy Magnetic Cubes - Expansion Kit - 2 Cars 2 Garages - STEM Toys
Qbi Magnetic Cubes
Qbitoy, a road consisting of attractively designed cubes with magnetic tracks.
The magnets mean that the blocks can be quickly connected – and hey presto!
You can start your journey. The Magnetism Track Systems allow children to be challenged as they learn, creates opportunities for open-ended play, and strengthens critical thinking and problem-solving skills. The core of the toy design is to hope that the parents or children can play together easily. 
The track square is a six-sided track. Each track can be freely connected. The square and the block are connected by magnetic force. It is easy to assemble and transform. Connect the magnetic blocks with two or more blocks of the same side or different sides.
Let your imagination run wild and create dozens of road options with our complete building Kit!
You can create different interactive experiences. The Qbi Toy also offers challenge cards to expand the depth and difficulty of the game. 
How it works?
Step 1: Get to know the blocks by connecting two or more blocks together to create a path.
Step 2: Practice connecting the blocks and creating tracks by assembling an oval racetrack.
Step 3: Push the toy car against the floor on the rear wheel and push it forward.
Step 4: Push gently or hard to get the toy car started. Now you are ready to let toy car run on the oval track!
Worried that some parts might not be safe for your little ones? Or what about the material used? No need to worry! We are happy to say that According to SGS, Qbi Toy meets the standards and requirements for children's toys in the US and EU. 
Designed & Made in Taiwan
2019 Nuremberg Toy Award Nominated (Startup)
2019 STEM.org Authenticated
Brand Story
Qbitoy is a toy startup company that was founded by a bunch of Taiwanese young designers who are also parents in 2016. We focus on developing high quality and innovative toys, that could bridge emotion and interaction between children and parents, providing fun learning and gaming experience.
Qbitoy highly inspires imagination, creativity and varieties of interaction. "We are keen to provide a whole new playing and creating experience for children and their family." founder Peng-Yung, Tsai
--------------------------

2 Cars 2 Garages
Challenge your skill! Inertia Toy Car, no electricity needed.
In the first design module, inertia was picked up for car's power due to the great pushing and playing experience it holds to play the car. It also challenges kids' control skill, which makes the game full of excitement and challenges.
Also equipped with magnet, toy garage is designed to play as a goal in games.
Contents: Inertia Toy Car x 2 (Green, Purple), Garage x 2 (Green, Orange)
Material: non-toxic ABS as main material, all materials comply to EN71 & ASTM
Product of Origin: Designed and made in T aiwan
Packaging Size: 225*60*60 mm
Weight: 0.21kg

---
We Also Recommend